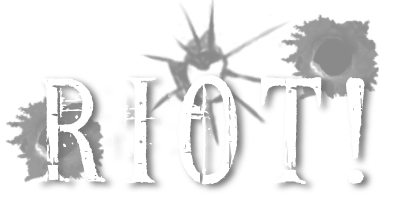 07/17/2009 Riot
Hara Arena - Dayton, Ohio

The show opens up with President Steven O'Connor and Commissioner Carly Summers walking down the isle. They introduce themselves, and welcome everyone to SAW Wrestling. They tell them that they have an awesome card for tonight, and plans for the future that will be nothing less than spectacular.


LOGAN CHRISTOPHER W/ BRANDI MOORE [v.s.] CALEB NEWSTEAD
Very close match. All skills are used, from high flying to technical to brawling. Newstead flirts with Brandi Moore a couple of times, which gets under the skin of Logan Christopher. Later on in the match, Newstead plants a kiss on Brandi, who is standing up on the apron. Newstead turns around, and is met with a superkick by Logan. Logan pins him, but gets a two count. So now Logan attempts his finisher, the Shooting Star Press, but Newstead gets his knees up - one of which connects with Logan's head. Caleb now pulls Logan up, and hits the Fisherman Brainbuster for the pinfall, and victory.
Winner: Caleb Newstead by pinfall.

Backstage, Michael Graham conducts an interview with Preston McClain. McClain tells everyone that he's the true powerhouse of SAW Wrestling, and that he also has more money than anyone else. He then tells everyone to never forget that!


CHRISTI CARTER [v.s.] ISABELLA
Another close one. Isabella hits a quick DDT for a two count. Christi fights back and hits a backbreaker. They go to the top where Isabella attempts a superplex, but Christi blocks, and hits a top rope Death Valley Driver for the pin.
Winner: Christi Carter by pinfall.

ZERO TOLERANCE [v.s.] THE INDUSTRY
This one is back and forth. Jackson Pearce hits a powerbomb on Scott Collins for a two count. Scott tags in Adam who hits a couple of suplexes, then a neckbreaker. Bradley now hits Jonathan Hunt with a brainbuster for a two count. Jackson Pearce gets tagged back in, and eventually works Bradley down until he can hit him with the Crash Course, for the pinfall.
Winners: Zero Tolerance by pinfall.


DANIEL MATTHEWS [v.s.] CHRISTOPHER MORGAN
Christopher gets the upperhand with his size and strength, but Daniel's wrestling skills help him out to get the upperhand. In the end, Daniel nails the Death Valley Driver for the pinfall.
Winner: Daniel Matthews by pinfall.

GARRETT ANDERSON [v.s.] AUSTIN BRIGGS W/ MISS AMY
This one was pretty breathtaking. A lot of close calls, including a piledriver from Garrett which got him a two count. Garrett goes for his finisher, the Running STO, but Briggs ducks it. Miss Amy then jumps up onto the apron, and Garrett has to put on the breaks before hitting her. When he turns back around, Austin nails him with a boot to the gut, then his finisher, the Pedigree, for the pinfall.
Winner: Austin Briggs by pinfall.

>> Caleb Newstead defeated Logan Christopher.
>> Christi Carter defeated Isabella.
>> Zero Tolerance defeated The Industry.
>> Daniel Matthews defeated Christopher Morgan.
>> Austin Briggs defeated Garrett Anderson.